The View Camera and the Darkroom
| | |
| --- | --- |
| Date: May 26 - 28, 2017 | Instructor: Richard White |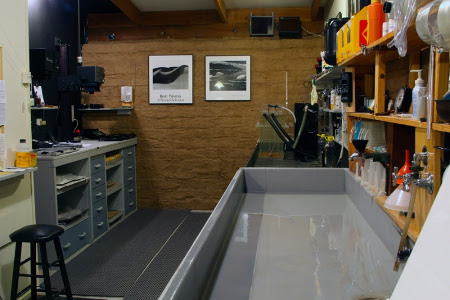 There is something magical about a darkroom produced black and white image. To see the result appear beneath liquid in a tray. Wow is a word that I have heard so often. Producing it via a large format camera is these days both unique and very rewarding.
The view camera makes us slow down and contemplate the image even before we have taken it. Often even before we have removed the camera from our bag. This workshop will allow participants to introduce themselves to this way of making and producing an picture. This whole tactile process makes you think about and see photography in a different way.
Friday night will be an introduction evening, looking at prints and discussing procedures required. On the Saturday we will expose some film, process that film, and then on the Sunday we have a day in the darkroom demonstrating and explaining how to make expressive black and white prints. The dodging and burning procedure, pre flashing the paper in selected areas, safelight testing, correct development of the image and many other darkroom tricks.
Time permitting we will scan a negative and go through the print preparation process on the computer. A thorough investigation from go to whoa.
The workshop will begin Friday night and conclude Sunday afternoon around 4pm.
Enrol now to see the magic!
Limited to four participants.
Workshop Fee: $575, includes film and chemicals, Friday night supper, morning teas & lunch both Saturday & Sunday.
Click here to download the registration form.