The Art of Photography Book
and
Places I've Been - A Journey Through Photography
One new book and one old book now in a smaller soft cover edition
The Art of Photography is a collection of many of the articles Richard has written for both in his newsletter and the magazines that he has written for over the years. The soft cover book measures 210mm by 260mm.
Richard went back over more than 150 magazine and newsletter articles and has chosen ones that are current for today's photographic climate, updated many and combined some where similar themes were addressed. More than 60 black and white and colour photographs are included to support the 26 articles contained in the book.
Places I've Been - A Journey Through Photography is now available as well measuring 210mm x 260mm. The book contains 50 black & white images from Richard's travels around Australia and overseas and each image has detailed text on how, when, where and why the image was made.
As film maker Don Parham, who wrote the foreword for the book said recently, "Here is a great opportunity to get inside the head of the man I like to call 'Australia's Ansel Adams'. Richard's text with each of the 50 images is insightful, often humourous and outlines why and how he made the photograph. A must read for any photographer".
The books are only available from this website
or an email and EFT to:
studio@richardwhite.com.au
BSB 063711
Acc#10123602
Purchase both books for a reduced price.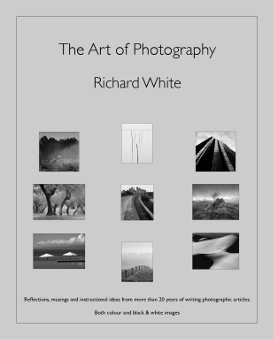 Click here to read back cover text