High Country 2017 Calendar
Sold Out
Since 2010 and for six consecutive years Richard White's calendar has been awarded gold, silver or bronze at the Printing Industries Craftsmanship Awards. Apparently this was unprecedented.
The National Awards are judged Australia wide under the criteria of content, design & layout and excellence in the craft of printing (Adams Print).
Although the calendar missed out in 2016, it will be back again for the 2017 edition.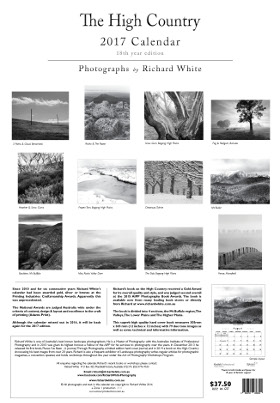 This year's calendar will cost $37.50. Post and packing is still $9.50 per calendar and plus $6 for 2 or 3 calendars, then another $4 for 4 to 6 calendars. So to post 2 - 3 calendars would cost $15.50 and 4 - 6 calendars would cost $19.50.
You can buy via Paypal and the correct shipping will be calculated for up to two calendars. If you would like to order three or more you can pay by EFT to BSB 033240 Acc# 113697 with Surname & CAL, then send me an email to richard@richardwhite.com.au with your details.
Unfortunately Paypal no longer allows shipping to P.O. Boxes. However, if you would like to ship to a P.O. Box, enter your P.O. Box address in the special instructions area on Paypal.